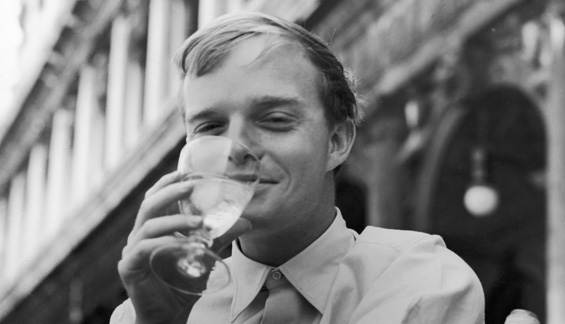 34 χρόνια από τον θάνατο του και 96 χρόνια από την γέννηση του Truman Capote το 1924, αρκετά βιβλία του έγιναν ταινίες
In 1961, Capote's novel Breakfast at Tiffany's (1958), about a flamboyant New York party girl named Holly Golightly, was filmed by director Blake Edwards and starred Audrey Hepburn in what many consider her defining role, though Capote never approved of the many changes to the story, made to appeal to mass audiences.

Capote's childhood experiences are captured in the memoir A Christmas Memory (1956), which he adapted for television and narrated. Directed by Frank Perry, it aired on December 21, 1966, on ABC Stage 67, and featured Geraldine Page in an Emmy Award-winning performance.
'When Richard Brooks directed In Cold Blood, the 1967 adaptation of the novel, with Robert Blake and Scott Wilson, he filmed at the actual Clutter house and other Holcomb, Kansas, locations.
Capote narrated his The Thanksgiving Visitor (1967), a sequel to A Christmas Memory, filmed by Frank Perry in Pike Road, Alabama. Geraldine Page again won an Emmy for her performance in this hour-long teleplay.

The ABC Stage 67 teleplay was later incorporated into Perry's 1969 anthology film Trilogy (aka Truman Capote's Trilogy), which also includes adaptations of "Miriam" and "Among the Paths to Eden".

Neil Simon's murder mystery spoof Murder by Death (1976) provided Capote's main role as an actor, portraying reclusive millionaire Lionel Twain who invites the world's leading detectives together to a dinner party to have them solve a murder. The performance brought him a Golden Globe Award nomination (Best Acting Debut in a Motion Picture). Early in the film, it is alleged that Twain has ten fingers but no pinkies. In truth, Capote's pinkie fingers were unusually large. In the film, Capote's character is highly critical of detective fiction from the likes of Agatha Christie and Dashiell Hammett.
Woody Allen's Annie Hall (1977) includes a scene in which Alvy (Allen) and Annie (Diane Keaton) are observing passersby in the park. Alvy comments, "Oh, there's the winner of the Truman Capote Look-Alike Contest". The passerby is actually Truman Capote (who appeared in the film uncredited).
Other Voices, Other Rooms (1995) stars David Speck in the lead role of Joel Sansom. Reviewing this atmospheric Southern Gothic film in the New York Times, Stephen Holden wrote:

One of the things the movie does best is transport you back in time and into nature. In the early scenes as Joel leaves his aunt's home to travel across the South by rickety bus and horse and carriage, you feel the strangeness, wonder and anxiety of a child abandoning everything that's familiar to go to a place so remote he has to ask directions along the way. The landscape over which he travels is so rich and fertile that you can almost smell the earth and sky. Later on, when Joel tussles with Idabell (Aubrey Dollar), a tomboyish neighbor who becomes his best friend (a character inspired by the author Harper Lee), the movie has a special force and clarity in its evocation of the physical immediacy of being a child playing outdoors.
In 1995, Capote's novella The Grass Harp (1951), which he later turned into a 1952 play, was made into a film version with a screenplay by Stirling Silliphant and directed by Charles Matthau, Walter Matthau's son. This story is somewhat autobiographical of Capote's childhood in Alabama.[66]
Anthony Edwards and Eric Roberts headed the cast of the 1996 In Cold Blood miniseries, directed by Jonathan Kaplan.

The TV movie Truman Capote's A Christmas Memory (1997), with Patty Duke and Piper Laurie, was a remake of the 1966 television show, directed by Glenn Jordan.
In 2002, director Mark Medoff brought to film Capote's short story "Children on Their Birthdays", another look back at a small-town Alabama childhood.
http://www.apotis4stis5.com/film-tv/filmtv/13595-moon-river-audrey-hepburn
Πηγή: Wikipedia